By Dick Jordan
Some days, particularly when the mainstream media is flooded with reports on the machinations and misstatements of potential U.S. Presidential candidates, I feel impelled to leave the country
permanently
(or at least for a long vacation). Fortunately, there's an app for that:
Costa Rica Trip Ideas
(iTunes App Store, $1.99, for iPhone and iPad).
But first, let's look at the book
Living Abroad in Costa Rica,
by travel writer Erin Van Rheenen, who later created the iPhone app.
World Traveler
When I was a small child growing up in Seattle, the farthest I lived from home was 300 miles away on my grandmother's farm in northern Idaho where I spent summer vacations from school. And my international travel was limited to a single, one-day trip to Vancouver, British Columbia, arriving in the morning on a United Airlines DC-6, spending the day wandering through shops with my mother and a friend of hers, before returning home late in the evening by train.
Erin Van Rheenen, whose personal Website is aptly named
Miss Move Abroad
, relocated with her
parents from Oregon to Nigeria when she was three years old. Since that time, she has lived for extended periods of time in Ireland, Ecuador, Mexico, and, of course, Costa Rica.
Planning Your Escape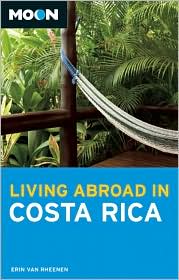 Erin says that
Living Abroad in Costa Rica
"will show you the nitty-gritty of life...working, shopping, banking, buying or building a house, dealing with immigration, and arranging for the best healthcare." And a quick look at the Table of Contents shows that's exactly what the book will deliver.
This isn't a guidebook that merely paints a romantic picture of living cheap in a
palapa
on the beach. Instead, it's loaded with lots of practical information about getting yourself, your kids and your pets into the country, finding a place to live, getting a job and and financing your new lifestyle, obtaining TV and Internet service, making phone calls, and receiving and sending mail.
Movie buffs will appreciate the "Suggested Films" list which includes ones familiar to me (such as
Endless Summer
and
Jurassic Park
) as well as others that I've never seen, like
Caribe,
a 2004 film which was the first from Costa Rica to be submitted in the Academy Award competition.
If you went to Costa Rica thinking that's where the "real" Jurassic Park was located, after spending a few days in the capital city of San Jose you might say, as Erin overhead one tourist remark, "I want to get out of the city [and] see the rest of the island." While the Caribbean lies on the east side of the country, and the Pacific on the west, Costa Rica isn't an island floating about in the sea—it's a big chunk of Central America connecting Nicaragua to the north to Panama to the south.
The book divides the country into four "Prime Living Locations": The Central Valley and Beyond (San Jose is here; several national parks peppered with volcanoes are to the north of it); Guanacaste and The Nicoya Peninsula ("The Wild West" with "the lion's share of the nation's beach resort infrastructure"); The Central and Southern Pacific Coast (only a couple hours or so by road from San Jose); and The Caribbean Coast (which Van Rheenen says "seems much more remote and exotic than the west coast").
For each of the four geographical areas, the author sketches out "The Lay of The Land," gives the price of housing in various communities, and describes what it is like to live in each. If you never stopped being a kid you'll be pleased to learn that some expats actually reside
in treehouses
with Internet access and flush toilets.
Of course, the toughest decision to make about
relocating
to Costa Rica is
whether to do it at all;
the second question is
where to live
. In "Planning Your Fact-Finding Trip," Erin explains how to prepare for your first exploratory journey, and offers up proposed itineraries that will give you an opportunity to visit different regions of the country on stays of varying duration: 10-days, 2-weeks, and 1-month. So, if you think it's time for you to say "Via Con Dios, America!", pack up your belongings, and emigrate Way South of The Border,
Living Abroad in Costa Rica
looks to be your ticket to live in a banana republic.
iPhoning It South
Costa Rica. Sounds like a nice place to visit, but
I wouldn't want to live there
, so where to do I turn for
vacation advice
?
Although Erin Van Rheenen's iPhone and iPad app,
Costa Rica Trip Ideas
, has a section entitled "Explore Living in Costa Rica" that mentions the Central Valley and the Nicoya Peninsula as possible new homes for émigrés, she intended it to be a vacation travel guide rather than an electronic version of
Living Abroad in Costa Rica.
The "Trip Ideas" section offers several possibilities including "He Surfs, She Yogas," "Hot Spots in 10 days" (San Jose, both coasts, and more), and "Explore Hot Springs & Volcanoes." There are three separate sections on checking out critters that fly, swim, or walk on land: "For the Birders," "Sea Turtle Safari," and "Wildlife Galore." The app was recently updated and added "Explore Gay Costa Rica" and "Explore Medical Tourism" (the iTunes Preview says "Cut-rate facelifts and bargain bypasses").
Costa Rica Trip Ideas
covers culture, food, history, makes specific lodging recommendations, and contains some of the same practical information for travelers that is found in
Living Abroad in Costa Rica
. The app will prompt you to buy a plane ticket to Costa Rica by taking you on a virtual, visual tour of the country with great color photographs of beaches, hotels, jungles, mountains, and wildlife.
Fish or Cut Bait?
After reading
Living Abroad in Costa Rica
and trying out
Costa Rica Trip Ideas
app on my iPhone, I only face one dilemma: Is my roll-aboard suitcase big enough to carry all that I will need for the trip, or do I need a shipping container, too?
Erin Van Rheenen provided Dick Jordan with a complimentary review copy of the paperback edition of
Living Abroad in Costa Rica
;
he purchased the
Costa Rica Trip Ideas
iPhone app.
Dick Jordan publishes the travel blog,
Tales Told From The Road
. His last post to the Book(ed) Passage blog was about legendary travel writer Tim Cahill. When Dick isn't traveling, you can usually find him hanging out with other members of Left Coast Writers at the Book Passage Corte Madera store on the evening of the first Monday of each month.