by Barbara Adams
In a world filled with superstars, Mario Batali shines bright. He's the real deal; top chef, television star, restaurateur and author. Best of all, he's human; always warm and engaging with his fans. Mario was in town this week promoting his latest cookbook,
Italian Grill
. I joined 220 self-proclaimed "foodies" and fans at the Book Passage
Cooks with Books
luncheon at the Il Fornaio restaurant in San Francisco. Many had taken the day off to see their star up close and personal.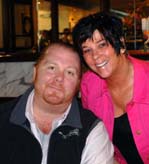 Excited guests got their first glimpse of Mario as he signed books in a small private dining area. There is always a bit of nervous anticipation as one approaches a celebrity chef, but Mario set everyone at ease, chatting animatedly and posing for photos. It seemed like everyone brought a camera to record their moment. One lady giggled when she saw that he was dressed in his trademark orange croc shoes, shorts, button-down shirt and zippered vest. "He's so cool! I just love him."
With signed books in hand, we headed to our assigned tables and I noticed that the entire wait staff was wearing bright orange crocs with their black and white uniforms—arranged for by Mario and the CWB team. I felt lucky to be a part of the fun as an excited buzz filled the restaurant. This was turning in to a party!
Traditionally the
Cooks with Books
menu is taken entirely from the author's cookbook and prepared by the restaurant. Because of Mario's tight schedule (three signings and three restaurant stops on this day!) the Il Fornaio chefs prepared their own main course of grilled chicken breasts, as well as their own sinfully delicious chocolate mousse dessert.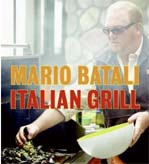 Mario provided the stuzzichino course with a salumi assortment and charcuterie. The delicacies came compliments of Salumi Artisan Cured Meats, the Seattle-based store owned by his father. Our table dispensed with formalities, sampling the meats with our fingers. I enjoyed their diverse yet balanced flavors so much that I went online and ordered a selection for my family and friends. We also savored a delicious appetizer of grilled portabella mushroom with arugula and Parmesan Reggiano cheese—a recipe from the
Italian Grill
cookbook.
Mario spoke to the crowd between courses and took numerous questions from the lively group. Fans wanted to know the behind-the-scenes details of his wildly successful Food Network shows,
Molto Mario
and
Iron Chef America
. Someone asked if he hung out with any other celebrity chefs, and we learned that Anthony Bourdain is a good friend.
Questions came rapid-fire, with topics bouncing back and forth between juicy tidbits and practical tips. I learned that San Francisco chef Jeremiah Towers of Stars fame is a constant inspiration to Mario when creating and running his many restaurants. One person yelled out "hey, Mario, how do I cook restaurant-style pasta at home?" Mario told him "remove the pasta from its cooking water a minute-and-a half early and finish it in the cooking sauce." Who knew? We were all having the time of our lives.
It's not difficult to see why Mario Batali is a success. Not only is he talented, intelligent and hard-working, but he is also passionate about life and his work. Above all, he displays a warmth and generous spirit that inspires both colleagues and fans.
A friend of mine attended his last book signing of the day at the Book Passage flagship store in Marin. After his long, grueling day, she described Mario as "energetic, real, and generous," with plenty of time and energy to answer her questions about favorite local restaurants. He'd recommended Pico's, so naturally she and her friend headed there for dinner, only to find Batali dining with friends on the patio. They sent him a glass of wine, thrilled, as I am, to have shared a moment with him.
Check out Barbara Adams Beyond Wonderful: Adventures to Savor